We're spending the Memorial Day weekend in Cannon Beach, OR this year.  Mia and I traditionally travel for her birthday.  Last year, it was a permanent trip from NH to OR.  I felt like I owed her something a bit more romantic and geared towards her.  Last year we woke up on Mia's birthday in a strange apartment, with no furniture, a couple boxes of clothes, and no clue where anything was.  This year things are a bit different.
The Blue Gull Inn is a quaint little collection of attached "cottages" just south of downtown Cannon Beach.  Nice quick access to the beach and we're just a leisurely stroll to the famous Haystack Rock.
It's a great base of operations for a few days on the Oregon coast.
Friday night we had dinner at the very small, and very good Castaways Tiki Hut….AKA The Tiny Tiki Hut.  The food was very good.  Highly, highly,  highly recommend going here.
Saturday the plan was to hike to Hug Point, 5 miles south of Cannon Beach.  The great part about Oregon's coast is the philosophy that it is the "people's coast".  No private land or development to interrupt your journey.  You can literally walk from the Washington border to California Border along the coast and it is all open to the public.  Actually, people do…on the Oregon Coast Trail.
We spent only 10 miles roundtrip, but in those 10 miles you go from some very public and crowded (by Oregon standards) beaches to a few very secluded and quiet spots.  It was pretty cool.  It was also more than likely the flattest hike we have ever done.
There are numerous basalt formations along the coast.  The most famous it seems is the aforementioned Haystack Rock, but there are more as you  head both north and south.  Again, pretty cool.
One of the other things that we are still getting used to, but absolutely love, is the coast's acceptance of dogs on the beach….year round.  I think New Hampshire only allows them in the winter or something like that.  There are a couple times we feel we're the only two who don't have a dog with them.  For the most part people are pretty good at cleaning up after their pooches too.  Can't say that about the sidewalks and walking trails back in the PDX area, but I don't think we saw any puppy poop along our hike.
Back to the hike……Hug Point is so named because travelers used to have to "hug the point" with their carriages on this part of the coast.  Long before the coastal highway was built, the only way to travel north and south was via the coast line.  Hug Point was only passable during low tide, and they had to carve a road into the Cliffside for people to use.
We got to Hug Point just as the tide was getting to it's passable point.  It was still a bit slick, and you have to walk on a bunch of sea life, which feels a bit odd.  More or less the path is "paved" with anemone, barnacles, and all sorts of mollusks.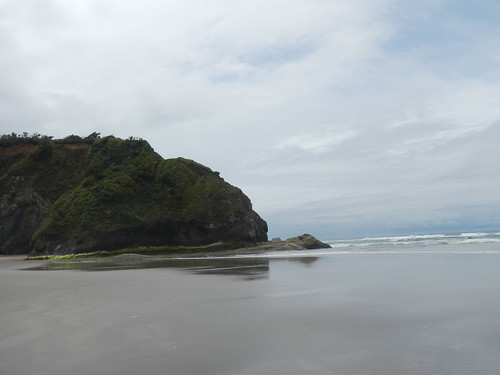 There's public parking and access from up above, so needless to say, once we got around the corner of Hug Point, it was a bit crowded again.  Not like Hampton Beach on a July weekend, but more than we saw in the quieter portions of our hike.
After you come around the point, you come upon a couple caves carved into the cliffs and a waterfall.  It's very cool, and a nice reward after the hike.
It's stuff like this shot that remind me quite a bit of Maine………
The caves don't go in super deep, one of them goes back maybe 30 feet, all the others are not as deep, yet.  Give mother nature time and I'm sure she will have her way with this Cliffside.
We had a little rest and some snacks while watching the ocean, and then it was time for the hike back.
We did max out at 11 feet above sea level!  Quite the elevation gain today.
Spent the rest of the afternoon hanging out downtown, watched a movie while Mia napped and then watched the sunset.  Not a bad way to spend a day at the ocean.
Thanks for reading.
-Pete